Reminder: The world is reopening
Appointment reminders are critical to many industries around the world, now more than ever. From the crucial services to the downright fun, in the new world emerging from lockdown, we all need a little certainty in our lives.
CPaaS (Communications Platform as a Service) has been somewhat of an unsung hero during the pandemic, working behind the scenes to aid with delivering our food, keeping in contact with our loved ones and broadcasting pivotal healthcare messaging. However, its use is far from over. As we all start to surface from our social hibernation, many industries that have clung on through the past year are now facing new problems that CPaaS can be an integral tool in helping to solve.
Reopening Anxiety
A recent survey undertaken by Anxiety UK showed while 37% of respondents are looking forward to returning to normal life, nearly an equal percentage (36%) are worried about post lockdown life. Of those who were feeling anxious about the lifting of restrictions, nearly half cited the pressures of socialising generally as their biggest concern.
"Any type of life change is associated with stress and anxiety," said Marney White, a clinical psychologist at the Yale School of Public Health. "Even if the change is exciting."
As a large part of anxiety stems from the unknown, appointment reminders/ confirmations can be a huge help in combating the worries of venturing out into public settings. With CPaaS, your customers could book a haircut or a table at a restaurant weeks in advance and receive timely reminders in the days or even hours before the booking, with the ability to reply to the service to confirm their attendance. Speaking from experience, this control over the situation is a great tool in helping to take the first steps in approaching anxiety-inducing situations.
Hospitality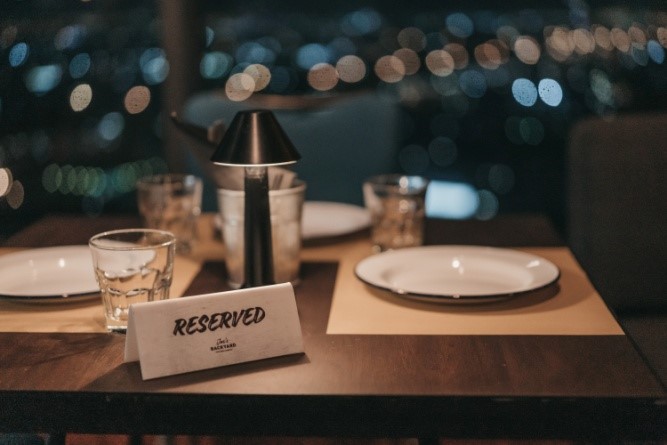 Hospitality, one of the largest sectors in the UK with 10% of total employment, has been hard-hit by COVID-19. As many businesses in this sector are allowed to reopen, they are now facing a new issue. Namely, the number of no-shows for reservations.
A survey completed in 2015 showed that even pre-pandemic, restaurants were losing £16bn annually due to customers lost by no shows. With increased demand and fewer tables as a result of social distancing, this number is only increasing.
As a large number of people are making multiple bookings to cover their bases, businesses need a way to confirm their customers' attendance ahead of time. This is where CPaaS shines, giving hospitality venues the ability for automated, two-way communication with the customer to make sure that their table will be filled.
It doesn't stop there. You now have your total attendance for the evening, but what to do with all the empty tables? By using another feature of Aculab's CPaaS, broadcast messaging, businesses could then send out a mass message to a pre-compiled waitlist in order to ensure the venue was filled to its maximum, socially distanced, capacity.
As restrictions country-to-country fluctuate throughout this pandemic, the global hospitality industry needs a way of future-proofing their business models to be ready for whatever may be around the corner.
Healthcare
We all know what our healthcare providers have done for us over the past year, and how different the world may have looked without them. From the ICU saving countless lives to record-breaking vaccination rollouts, we can now start, cautiously but optimistically, to look towards the future.
As we do, we believe that our healthcare providers need a bit of respite care of their own. With CPaaS being a secure, HIPPA compliant platform, medical staff can utilise many of its features to take some pressure off where possible. As many communications can be automated, it allows staff to focus on their patients' needs while reducing costly missed appointments.
With the UK's NHS facing a waitlist of 5.1 million people awaiting routine survey (the largest number since records began), these additional services are now more crucial than ever. Of course this issue is not just UK-specific – many countries around the world are facing similar delays that CPaaS could aid in alleviating.
But wait, there's more
Reminding patients about their appointments and helping fill empty restaurant tables use only the tip of Aculab Cloud's features. Our powerful, programmable APIs enable:
Answering Machine Detection- The ability to detect whether a human or their voicemail picked up the call, more quickly and accurately than the competition
Interactive Voice Response (IVR)- Develop custom IVR systems to create a seamless call experience for your customers
TTS & Speech Recognition- Automate your voice applications with Amazon Polly TTS and Google Speech Recognition
Click to call- Convert web traffic into paying customers by building voice capability into your website
Broadcast messaging- Send mass voice and SMS notifications to thousands of recipients, fast
Get in touch
As the pandemic continues to evolve in nature, more and more businesses are having to adapt alongside in order to stay relevant in the ever-changing ecosystem. If you think CPaaS could be the missing link in your business model, contact Aculab to find out more.