The seven realms of Broadcast Messaging
Broadcast messaging that uses a cloud-based service is a natural choice. Using a cloud as-a-service approach gives a variety of message delivery options, and cuts down costs by automatically scaling to meet demand. Find out what makes Aculab Cloud such a natural choice for voice and SMS broadcast messaging, and how other customers are already reaping the benefits from using Aculab's CPaaS platform.
Contents:
---
Broadcast Messaging is the service that enables users to create an automated service that makes outbound messages, with the ability to target large numbers of key people. Customised messages can be sent en-masse via popular methods of communication, such as SMS, voice, and fax, and responses can be routed automatically through the messaging system, saving time whilst creating engagement.

Broadcast Messaging enables the easy distribution of information such as appointment reminders, critical updates, service updates, invitations to complete customer and employee satisfaction surveys, and more.

With a system that exposes an API, adaptation to your specific communications needs is easily achieved. An API, with its highly accessible functionality, can unlock scalability and efficient services by gathering information about your message receivers, which you can then interpret and use to enhance your service.

Broadcast Messaging has a wide array of uses, and can be used to boost engagement and create stronger customer relationships. This, in turn, enables your team to keep improving their customer communications.

Nearly everyone has the ability to be contacted on the channels that broadcast messaging can operate on.

By doubling down on the unilateral and ubiquitous nature of SMS, telephone calls and fax, broadcast messaging maximises outreach.

This cuts down costs and saves time by eliminating secondary processes, such as app installation, training and troubleshooting. Instead, a message is broadcast quickly and easily, to a large number of people, as long as they are opted in.


Over the decades, communication has evolved side by side with an increase in the variety of channels available to send messages to a large number of people, instantly. But what makes broadcast messaging such a powerful tool?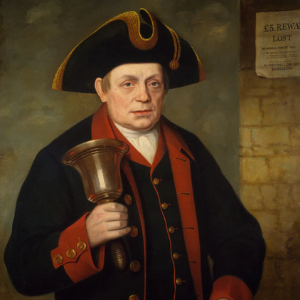 Well, imagine, if you will, before the times of telecommunications; before the printing press, the person in the job role of the Town Crier. This character fulfilled the demand for mass communication, when literacy rates were low. He galloped into town, carrying a bell. (which, by no sheer coincidence, looks like the notifications symbol on your phone). He gets off his trusty horse, walks into the centre of the old town square, and communicates his messages to the public, thus conveying important updates and information to as many people as will listen. Once he's done, the information is then disseminated by word of mouth.


The Town Crier himself becomes synonymous with important news. He is a public official and therefore can be trusted to be a true messenger for the originator of the message - this eliminates ambiguity, and gives authority to his words.

The people feel communicated with and become better informed not only by the content of his message, but by the medium used. Broadcast Messaging is a new medium for the same process.

In this digital age, services and businesses have the same need to disseminate critical information to a large number of people, but with modern, widely available and highly accessible mediums, such as SMS, voice, and fax.

A Broadcast Messaging API uses these channels - messages are sent-forth. This reflects the development of the telecoms industry towards the Internet of Things- where, today, nearly everyone has a device in close proximity through which they can receive messages in real-time.

These messages, because of the medium used, operate on a high level of trust and authority, creating a positive, dynamic relationship between speaker and listener.

In other words, receiving a direct text or a phone call with an implicit ease of response is much better for ease of communication.

Contacting clients, employees, and customers through Broadcast Messaging means receiving the benefits of high efficacy in potential responses, and with a guarantee that each message sent will reach a specifically targeted group of key people, with no delay.

This is the power of Broadcast Messaging.
The ability for groups to have convenient and authoritative mass communication service has been thrown into high relief in the context of Covid-19 , where the response to the global pandemic is fostered on ever-changing flows of information, data, and scientific knowledge.

This has created a new paradigm that requires organisations to be able to think on their feet, and make quick, adaptive decisions in the face of uncertainty.

Working from home, for example, requires new adaptations to keep the ball rolling. Coworkers and office meeting rooms have moved online, so new, robust methods of management and work styles have to be considered and put into place.

In order to enable businesses and services that are affected by 'the new normal' to make decisions with confidence, and to inspire confidence in those they communicate with, a level of communication must be achieved where ambiguity in messaging across domains can be eliminated; bringing everyone together on the same page, with the same message delivered.

Broadcast Messaging is one such method, and is suitable for deployment across a wide variety of domains.

The creative possibilities for Broadcast Messaging are incredibly wide reaching, and as such, it has already been deployed to fulfil many applications and industries.

Here are some examples of where and how broadcast messaging has been deployed, to spark some inspiration for your business or service, and to give you some ideas for how Broadcast Messaging is best used:

Customer service & employee feedback surveys --- VirtuaTell
VirtuaTell's customer service feedback surveys make use of Aculab Cloud's versatile and fully adaptive API to send out surveys to customers and employees on any channel that the customer gives consent to be contacted on. Virtuatell's service receives and analyses this survey data in real time, which leads to faster and more in-depth appreciation and interpretation using AI analytics.

Education --- Insta Info/TEC911
Especially in the context of Coronavirus, the ability to disseminate important information between schools, pupils and parents cannot be taken for granted, as schools undergo a massive adaptation to fit new standards. Whether it is mass texting of parents to alert them of school closure, schedule changes, or unexpected events, Broadcast Messaging in the education sector goes towards eliminating ambiguity, and its ease-of-use allows for communication with parents more efficiently.

Mobile network infrastructure --- BeQuick
BeQuick are a company who specialise in prepaid and postpaid telephony, and VoIP, with a large scale infrastructure that provide an MVNO service. (Mobile Virtual Network Operator). Using Broadcast Messaging, and specifically a scalable IVR solution, they were able to set up a system whereby customers could activate their new phones, check their balances, and pay bills, all via an automated, reliable, and easy to use system.

Healthcare industry --- eClinicalWorks Messenger
The healthcare industry is undergoing a revolution in that the telecoms industry that facilitates high quality patient service and internal communications, can be upgraded to increase efficiency, cut down waiting times, and provide a high quality public service, which ultimately benefits us all. The technology of Broadcast Messaging, which include SMS and IVR can be deployed across multiple domains. eClinicalMessenger, for example, uses Broadcast Messaging to further optimise the patient experience, cut down on costs, and provide a higher quality of service overall. Diagnosis, assistance, test results, rehabilitation, and patient management systems have a proven track record of benefitting from an automated Broadcast Messaging service.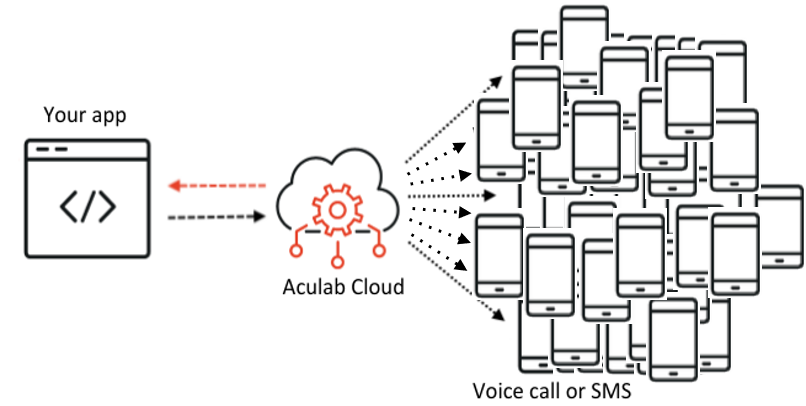 With Aculab Cloud's integrated and easy-to-use API, you can design your own system to send thousands of voice, sms and fax messages simultaneously, and with a high degree of reliability.
Flexible Management of Calls Per Second (CPS) across multiple applications and systems.
For voice specifically, these messages can even be sent with custom voices, through full integration with Amazon Polly. This works alongside bespoke Text To Speech to analyse responses and deepen engagement.
Aculab Cloud also offers Live Speaker/Answering Machine Detection, driven by AI, for modern voice applications. This is top of its class - approaching 99% accuracy. Virtually zero calls are misplaced- a guaranteed human on the other end.
To gain more information about how Aculab Cloud leads the way in modern approaches to Broadcast Messaging, watch our webinar recording.
On the 6th and 14th of October, 2020, Aculab hosted an informative webinar, entitled "High Performance AI Broadcast Messaging in a Time of Crisis"

This webinar featured an in-depth look at Aculab Cloud's features, including its versatile API, and gave use-case examples, with a brief tour from our resident experts.
Aculab's CPaaS has numerous applications, and is already successfully deployed in multiple sectors such as healthcare, finance and banking, education, and public safety.
Request access to the webinar recording here.