Spending is saving!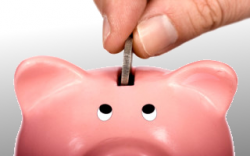 Spending money on gateways can protect your VoIP migration budget.
Any competent financial advisor will be able to illustrate how you can spend to save, but when it comes to funding your migration to VoIP, it's your financial director you've got to convince.
What's the scenario?
Let's say you've long harboured the desire to replace elements of your aging PBX network with a brand, spanking new UC system. That is desirable, not least, because many of the switches will be beyond the manufacturer's end-of-life. Indeed, some may be no longer maintainable or at any rate, be increasingly expensive to maintain. And you know support contract pricing is likely to escalate year-on-year, with spares becoming as rare as the proverbial hen's teeth.
What are your options?
Option A is a 'rip and replace' of the whole kit and caboodle, but your financial director isn't going to sign off a six-figure CAPEX in any kind of hurry.
Option B is quite prevalent. That is to replace the equipment at the main office with say, an Avaya Communications Manager or a Cisco Call Manager (or equipment from Ericsson, Mitel, Unify, etc. – substitute your preferred vendor). Integral to the success of option B is being able to retain all of the PBX systems in your outlying or remote branch offices. And key to that is intra-office interoperability between the PBX and the SIP-based Av-Co kit.
That's where gateways come in. If your PBX network is based on QSIG, then you can probably connect to the main office via the vendor's equipment, which should support that protocol. If your PBX runs DPNSS, it's very likely you will need an external gateway. And it's also possible that, in either case, if you want to continue using the Supplementary Services features to which your PBX users have become attached, you will need a gateway.
What is the economic advantage of a gateway?
Why will your finance director prick up his ears? For this simple reason; a low-cost enterprise gateway is highly cost-effective compared to the alternative – which is the cost of ripping out the PBX and replacing it with assorted components of e.g., an Av-Co solution.
Of course, there's another valid reason and that is your remote site users spend less on telecoms, because their calls traverse your wide area network and break out as local calls from the main site. So, on a per site basis, you keep the PBX and buy an inexpensive gateway. Ultimately, over time, you migrate or transition to an all-VoIP, SIP trunking solution – according to periodical budget allowances.
But there's another option – option C.
Option C allows you to get rid of the PBX at the remote site, because it's end-of-life and expensive to maintain, but still avoid the cost of a fully-fledged Av-Co replacement. Option C enables you to install SIP phones as IP-PBX extensions in the remote offices, and to use the wide area connection back to the main office. That means everyone is using compatible SIP phones and those obsolete feature phones can be consigned to the recycling plant along with the equally obsolete parent PBX. Still, gateways can play a key role.
Without a gateway, the remote site remains vulnerable
Yes, it does, which makes gateways compelling. Installing a gateway at the remote site enables survivable remote site telephony and removes the vulnerability. A gateway acting also as a Proxy and Registrar will maintain inter-office communications, in addition to essential PSTN failover and/or breakout, in the event of a wide area network issue.
You can be sure that's an advantage that will appeal to both your IT director and financial director.
Get a gateway!