5 Reasons to Use ApplianX in Your Migration Strategy
The humble telecoms gateway. While all the talk is about the shiny and new in the world of IP-based telecommunication and cloud services, physical TDM gateways still have their part to play in large enterprises - who simply can't, or don't want to, dive head first into using these new services.
Gateways have an important role to play in assisting in the migration from TDM solutions to IP based networks, by connecting them together with ease. Here are five reasons why you should consider using gateways as part of your migration plan.
Why migrate in the first place?
BT will shut down the UK PSTN network in 2025.
Estonia & The Netherlands already have.
PSTN telephony systems have been around for decades. In fact, the first experimental TDM systems were originally tested back in the 50s. While such a long service life is admirable, it's time to start moving over to IP based networks.
Reason 1: PSTN Shutdown
With the sunset of PSTN on the horizon, you may be wondering if it is possible to continue using your older hardware. The answer is yes. TDM to SIP gateways extend the life of your hardware by providing a way to convert old protocols into new.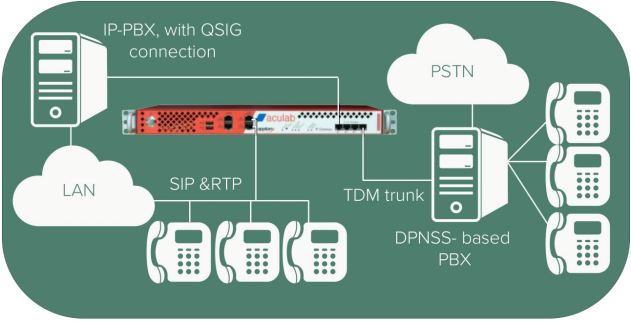 Reason 2: You want new features
If you're still running a legacy PBX system, it's likely that you've run into a wall with how far you can take it without using some new technology. Gateways can help here. By connecting legacy PBX systems with SIP based networks, new features become possible, including:
Local numbers at remote offices
Remote-worker support
Flexible channel capacity
Customisable Caller-ID.
Reason 3: Ease of Use & Feature Interoperability
With how busy the modern workplace is, having to learn a complex management system for your gateway products costs time and reduces productivity. Modern gateway systems such as ApplianX include a web based interface for easy management and is designed to be 'plug and play'.
ApplianX was built from the ground up to support as many migration scenarios as possible, with interworking between a variety of protocols. It supports just about any PBX with the protocol support including:
QSIG
DPNSS
A variety of PRI / ISDN types.
Reason 4: When Rip-and-Replace is Infeasible
A key barrier to migration of SIP has been the infeasibility of outright replacement, This is a particular issue for critical infrastructure providers, such as:
Banks
Railway Networks
Government Institutions.
These organisations aim to minimise downtime, and test multiple scenarios before committing to large scale migration. Gateways help facilitate a multi-stage migration process, so that you have control over the process. Moreover, gateways allow you to keep your existing equipment in service for longer by providing a bridge between otherwise incompatible systems.
Reason 5: You Want More Control Over Your Options
A large part of why businesses are choosing to move away from TDM is to avoid vendor lock-in. Migrating to SIP solutions means being able to use standardised hardware, and less reliance on vendor support for legacy TDM systems. Some vendors have dropped support for their TDM solutions, meaning procuring parts and service is next to impossible.
An additional perk provided by gateways is the choice over when and where upgrades to your network are performed. If you decide to invest in entirely new hardware, gateways provide a relatively inexpensive means to spread the cost of these large investments, by doing it in stages.
Ready To Migrate?
Aculab provides the tried-and-tested ApplianX-IP solution to help get your organisation ready for the next generation of telephony networking. Why toss away expensive equipment when you don't have to? And, if you need SS7 support - we have you covered with GIII, a gateway specifically designed for SS7 to SIP interworking.
Worried your system won't be compatible with Aculab gateways? Don't be. ApplianX IP gateways and GIII are designed to support a wide variety of installations and configurations.
ApplianX-IP Enterprise Gateway:
PRI/ISDN types; Q.931 ISDN variants, DASS 2, T1 robbed-bit; E1 CAS; R1; R2; AT&T and NI2
Enhanced supplementary service support on QSIG & DPNSS Protocols
Dual redundant SIP traffic interfaces
G.711 & G.729AB Protocol Support.
Interested in using Aculab gateways and seeing how they can help you migrate?
Book a time that suits you to start building your solution with an Aculab expert today.