The Big Switch Off Is Happening. Are You Ready?
The Big Switch Off refers to the growing phase-out of BT's Public Switched Telephone Network (PSTN) and Integrated Services Digital Network (ISDN). Businesses and homeowners will no longer be able to acquire PSTN and ISDN connections after September 2023, followed by the old technology being completely phased out and switched off by December 2025.
This change will affect many people and businesses, as BT is moving their customers to a fully digital network from the old analogue public switched telephone network, and by the end of 2025, every phone line in the UK will be digital.
When Is This Happening?
Back in 2017, BT announced their intentions that in 2025, both its PSTN and ISDN networks would be switched off in favour of VoIP services. This will be the biggest change in the telecommunications industry in the last 30 years.In fact, these changes have already begun with the phase-out of ISDN. However, one of the biggest changes will take effect in September 2023, when BT will stop accepting requests for new PSTN, ISN30 and ISDN 2 services.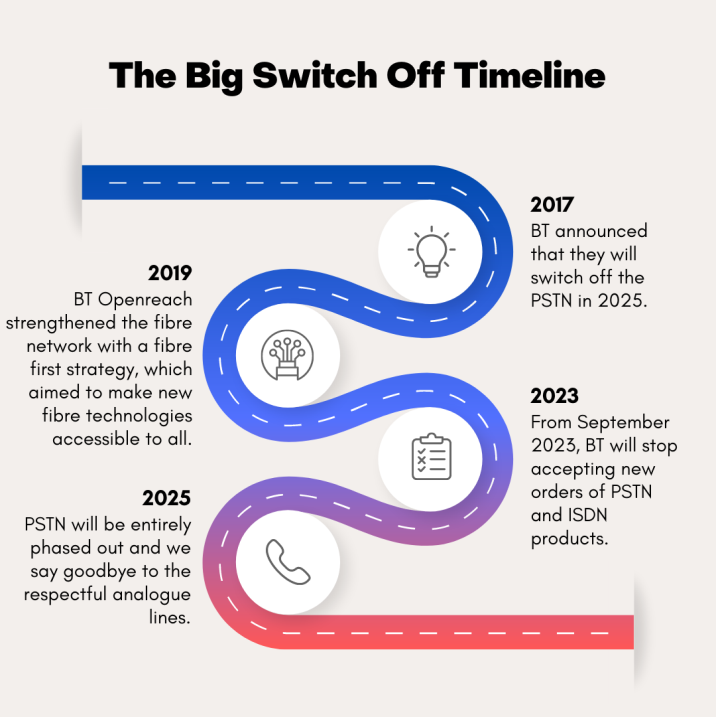 Why Is This Happening?
You may be wondering why BT is shutting down this established network? Existing PSTN and ISDN networks use the same copper cable technology as original 1800's phone lines, so as you may have guessed, they are not cut out for modern telecommunications. IP technology is the future of phone communications and with the decrease in legacy systems, there is a required shift to this new technology.
Voice over Internet Protocol (VoIP), commonly known as IP telephony, is a method and set of technologies for delivering voice communications and multimedia sessions over IP-based networks. VoIP is dependable, future proof, and reliable, and is a step in the right direction for an ever evolving technology.
VoIP has many benefits for your company:
VoIP has a reduced cost of ownership when compared to legacy PSTN or ISDN networks.
You are not limited to your desk, meaning you are free to be mobile.
With VoIP you are able to create virtual numbers which will lead to growth in your company.
SIP (which is the Session Initiation Protocol) is the most widely used signalling protocol within VoIP networks; it defines the messages exchanged between endpoints. Voice calls, video conferencing, instant messaging, and media delivery are all supported via SIP.
Things To Consider
So what should you consider before switching? There is a list of things that you need to contemplate before making the switch:
Do you want to continue to use existing legacy systems?
How will connectivity to existing systems be maintained?
Will you port over existing numbers?
How will you leverage the flexibility and enhanced features provided by newer IP-based systems?
If you are planning to move, some equipment changes may be required, and if you replace your systems, you need to start planning your migration to these systems now.
Gateways can help prevent your company from reaching a limit in terms of how far it can go without the use of modern technologies. New functionality is made feasible by linking legacy PBX systems to SIP-based networks. SIP has many new features that will benefit your business, such as having local numbers at remote offices, having flexible channel capacity, acquiring a customisable caller ID, and having remote worker support.
A gateway can assist with a smooth migration in a number of ways:
It can be used prior to the PSTN switch off, which will enable the migration to a new IP-based architecture.
It also can be used after the PSTN switch off, enabling the continued use of existing legacy equipment.
With Aculab, companies can use the ApplianX IP gateway to upgrade their networks in stages, meaning that these businesses will have more control.
In summary, by progressing with Aculab you are able to still use your existing infrastructure while saving resources and making the switch from PSTN and ISDN to IP technology a little easier.
What Can You Do?
Ofcom reports that over two million businesses are still using ISDN connections. However, with Aculab you won't need to replace these systems you already have.
Aculab provides the market leading ApplianX IP Gateway, which facilitates VoIP and TDM migration, extends user access to applications, and builds upon existing enterprise infrastructure. It uniquely and fully supports all supplementary services between SIP, DPNSS, and QSIG. ApplianX IP is the solution to help get your organisation ready for the next generation of telephony networking, with no need to dispose of your old equipment.
Aculab also provides a gateway specifically designed for SS7 to SIP interworking, the GIII. And if you're worried that your system won't be compatible with the Aculab gateways, there's no need, ApplianX and GIII are designed to support a vast variety of installations and configurations.
Gateways have an important role to play in assisting in the migration from TDM solutions to IP based networks by connecting them with ease.